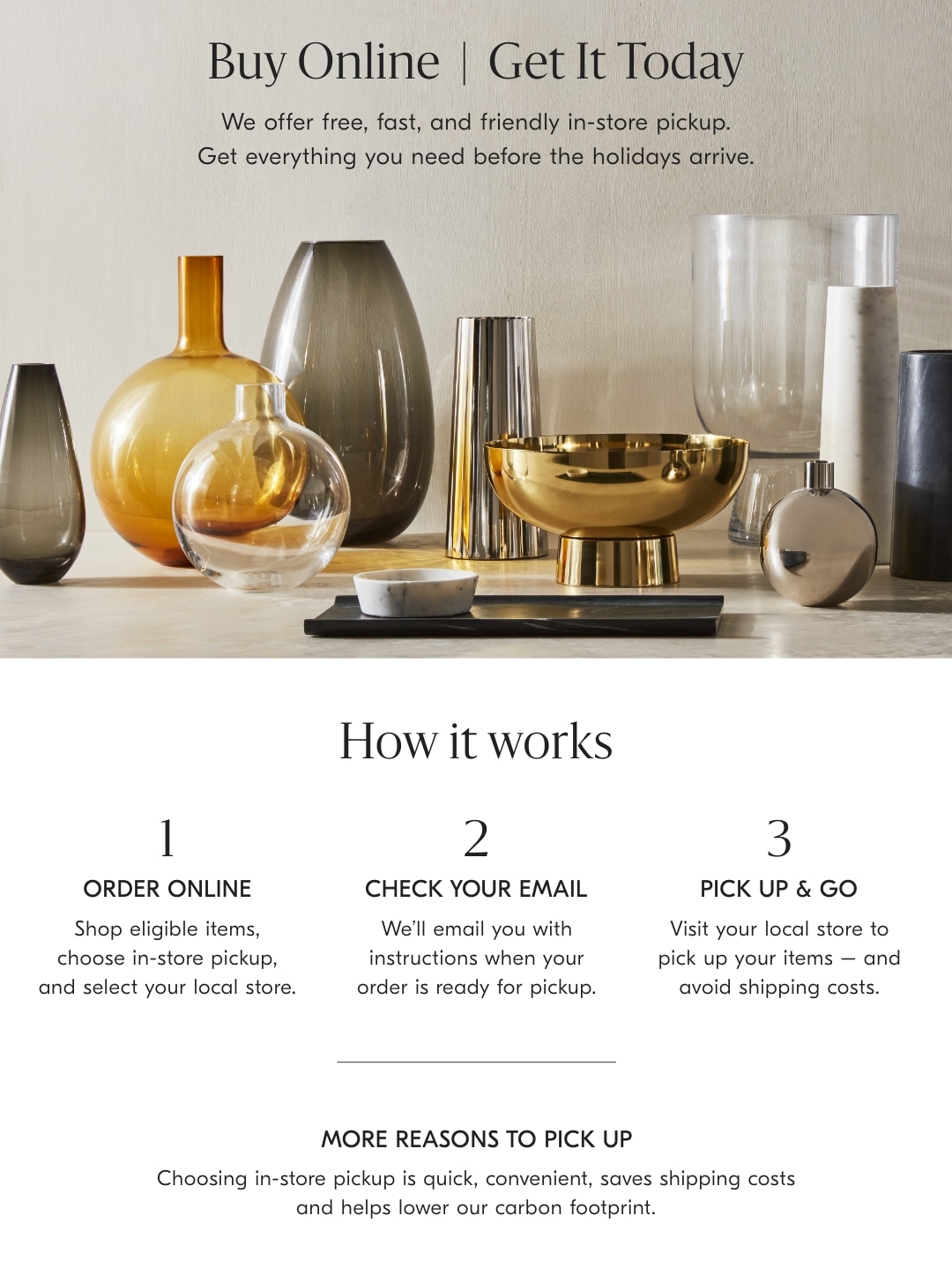 Can I choose to have some items shipped and pick up others at a store?
Sure! When you add an item to your online shopping cart from a product's information page, just indicate whether you'd like to pick it up or have it shipped.

What items are eligible for pickup in store?
To find out whether an item is eligible for you to pick up at a store, check the product's information page on our website. After you choose the item's colour and/or size, you'll be able to select a store for pick up if the item is available. Most of our products are eligible for in-store pickup, with the exception of made-to-order furniture and personalized products.
When will my credit card be charged?
Your card will be charged once we confirm that we have your merchandise in stock and it's ready for you to pick up. Gift Cards are charged immediately upon completing the online transaction, prior to confirming the order is in stock and ready for you to pick up.

What should I do if I don't receive a confirmation email?
If you don't receive a confirmation email within two hours of placing your order, please call the West Elm store you selected for pickup.

When will my order be ready to pick up?
When your order is ready to be picked up, we'll send you an email letting you know. If you place your order during store hours, it will be ready for you to pick up within two hours. If you order after your selected store has closed, your order will typically be ready for pickup as soon as the store opens the next morning. Store hours may vary by location, so be sure to check the hours and your confirmatin email before you head out.

What do I need to bring to the store when I pick up my order?
Please bring your order number and valid photo I.D.

Who can pick up my order?
Unless you call to instruct otherwise, you are the only person authorized to pick up your order. If you'd like someone else to pick up your order, please call us and provide that person's name. Make sure the person picking up your order brings a copy of the order confirmation email (digital or printed), along with their valid photo I.D.

Where in the store should I go to pick up my order?
Ask any associate when you arrive at the store.

How long will you hold my item(s) at the store?
We will hold your item(s) for 7 days, beginning from when we send you the email letting you know that your order is ready for pick up. Check the email for the exact expiration date. If you need more time, no problem! Simply call the store and let them know when you'll be there to pick up your order.

How do I change or cancel my order?
Just call the West Elm store where you've requested pickup and let them know that you'd like to change or cancel your order. Please note that if you're changing your order, we may need to cancel the original order and create a new one for you.

Can I return or exchange my purchase in stores?
Of course! If you're not satisfied with your purhcase, you may exchange or return the item(s) at any West Elm store. If you're returning a purchase, we'll refund the amount using your original method of payment.
What happens if some or all of my purchase is no longer available in the store I selected?
If for some reason, any or all of your order becomes unavailable in the store you selected, we'll send an email to let you know. If your entire order is no longer available, we'll cancel the order and your credit card will not be charged. In the case of partial availability, we'll continue with the order and have the available items ready for you to pick up at your chosen store. Your credit card will only be charged for items that are available. We will not charge your card for any missing items.

Will my car or truck be big enough for the item?
Products may be larger than expected due to their packaging. Please review our product dimensions to consider what vehicle to use when picking up your order. If the product is too large to take home, you may opt for front door delivery of eligible items.